Tender, seasoned chicken is combined with tangy sun-dried tomatoes and fresh spinach leaves. Tossed with a creamy cheese sauce, it's a nutritious take on a classic comfort food that will satisfy your appetite with ingredients you can feel good about.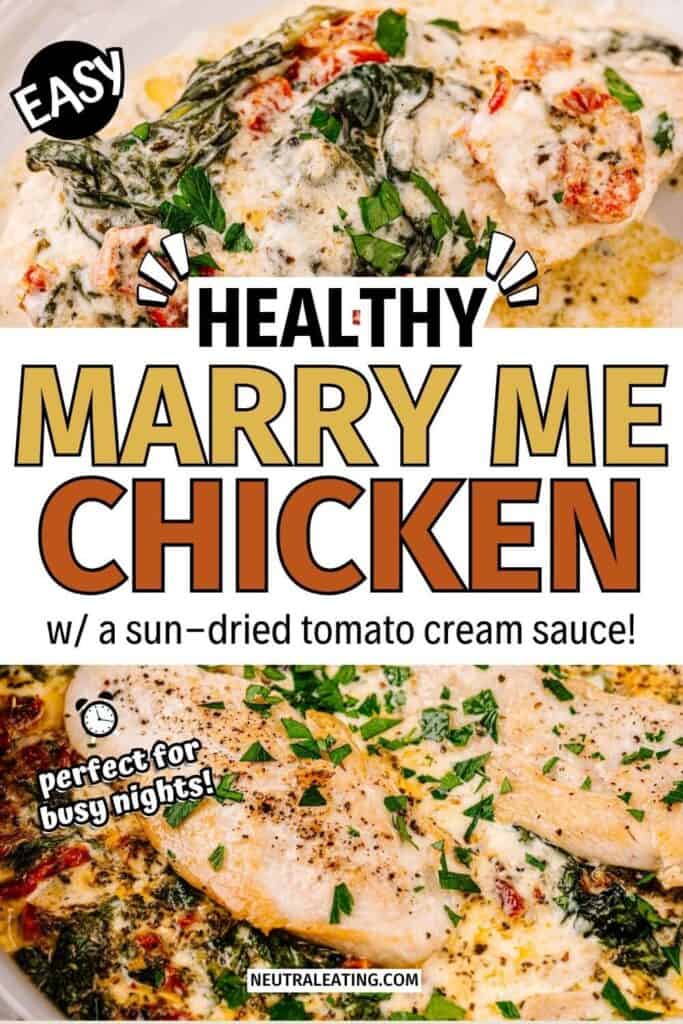 Want to save this recipe? Enter your email below and we'll send the recipe straight to your inbox!
What is Marry Me Chicken?
Marry Me Chicken is a popular Italian-inspired dish that is known for its unique combination of chicken breasts, garlic, sun-dried tomatoes, and creamy cheese sauce. The dish gets its name from the idea that its so delicious that whoever you make it for will propose on the spot. Simple yet indulgent, our version is a hearty, low-carb comfort food no one can resist!
Is Marry Me Chicken Healthy?
Want to save this recipe? Enter your email below and we'll send the recipe straight to your inbox!
Let's take a look at the main ingredients:
Chicken
Garlic
Sun-dried tomatoes
Spinach
Heavy cream
Parmesan cheese
Garlic, sun-dried tomatoes, and spinach are all natural, nutritious food sources. Each have their own list of health benefits. Combine them together, and you've got a bright, flavorful, and healthy meal.
But what about heavy cream? What about Parmesan cheese? Is dairy healthy?
Here's what we know. Dairy is full of vitamins, minerals, protein, and natural fat energy. But if everyone consumed dairy all of the time, dairy farming would become abusive and unsustainable…
Let's be mindful of our dairy intake. Buy dairy that comes from pasture raised cows and try to eat less.
But what about the chicken skin? Isn't it fatty and unhealthy?
Neutral Eating has a practical stance on chicken skin:
If you're going to eat meat, make full use of the animal. Eating the whole animal is sustainable, nutritious, and humane.
Chicken skin is full of vitamins, minerals, protein and natural fat energy. And the stuff is delicious. Doing right by the animal means you get to eat it all. Enjoy the skin! Learn more about the Neutral Eating Food Philosophy here.
Marry Me Chicken Tips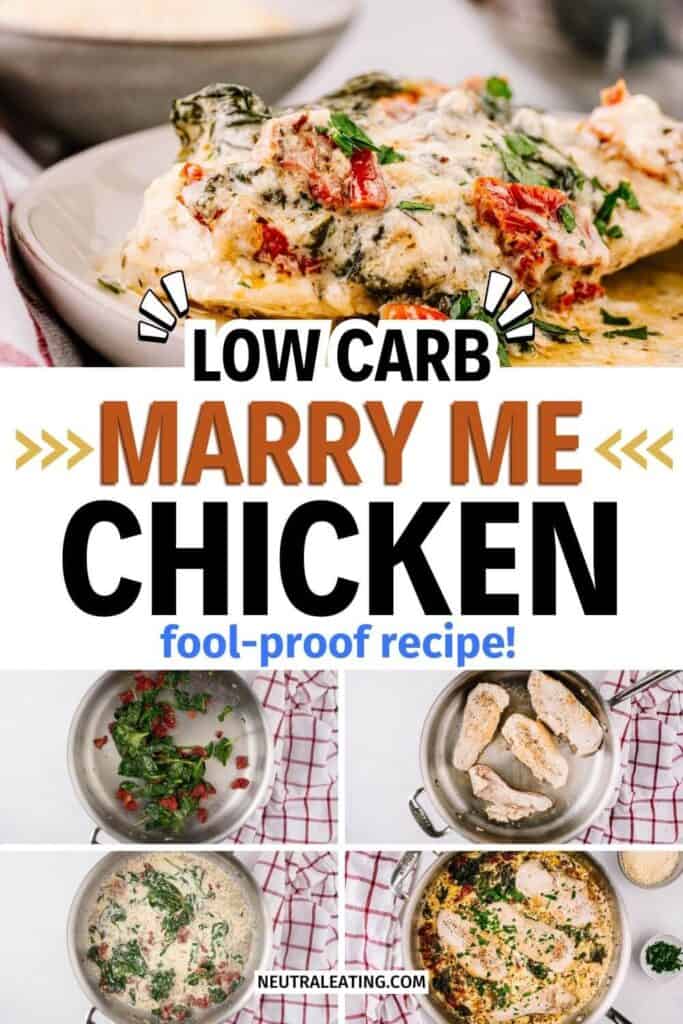 1. Bulk it up
Serve this dish over a bed of zucchini noodles, cauliflower rice, or low-carb pasta to make it even more filling and help soak up the sauce.
2. Grate the cheese
For the best results, use a block of Parmesan, and grate it yourself. It will have a bolder flavor and melt easier, creating the gooey consistency we want. Also, pasture-raised cheeses always taste better.
3. Avoid light cream
Not only is light cream often made with unnecessary chemicals and additives, but it also dilutes the flavor and creates a thin, runny sauce. Go for pasture-raised heavy cream.
4. Store leftovers
Feel free to make a double batch, and store leftovers for easy meals throughout the week! Once cooled, they can be transferred to an airtight container and stored in the fridge for up 3 days. To reheat, warm them in the microwave or oven, and add a splash of water to thin out the broth.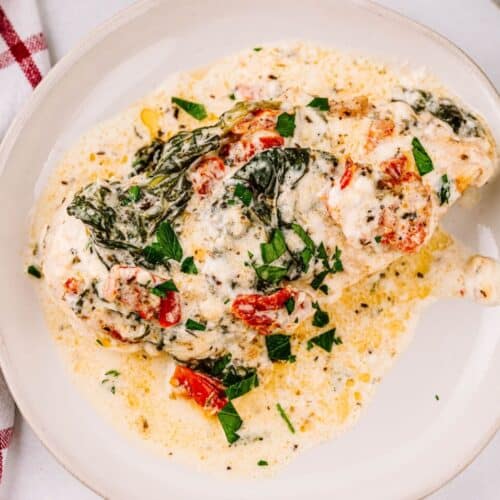 Ingredients
4

pcs –

boneless, skinless chicken breasts

1

Tbsp –

avocado oil

salt and black pepper, to taste

4

cloves –

garlic, minced

¼

cup –

chopped sundried tomatoes

1

cup –

spinach leaves

1

cup –

heavy cream

½

cup –

grated Parmesan cheese

1

tsp –

dried basil

1

tsp –

dried oregano

fresh parsley, choppped

(for garnish)
Instructions
Preheat your oven to 375°F (190°C).

Season the chicken breasts with salt and black pepper.

Heat the oil in a large oven-safe skillet over medium-high heat. Add the chicken breasts and cook until browned on both sides, about 3-4 minutes per side. Remove the chicken from the skillet and set aside.

Reduce the heat to medium-low and add the minced garlic to the skillet. Sauté for about 1 minute until fragrant.

Add the sundried tomatoes and spinach to the skillet. Cook for 2-3 minutes until the spinach wilts.

Pour in the heavy cream, grated Parmesan cheese, dried basil, and dried oregano. Stir well to combine.

Return the chicken breasts to the skillet, nestling them into the creamy tomato mixture.

Transfer the skillet to the preheated oven and bake for about 10-15 minutes for thinner chicken breast and 20-25 minutes for thicker chicken breast or until the chicken is cooked through and reaches an internal temperature of 165°F (74°C).

Once cooked, remove the skillet from the oven and let it rest for a few minutes.

Garnish the chicken with chopped fresh parsley.
Notes
DID YOU MAKE THIS RECIPE?
Please let us know how it turned out! Leave a comment below and share a picture on

Instagram

with the hashtag #neutraleating
Recipe from Neutral Eating: https://neutraleating.com/marry-me-chicken
Want to save this recipe? Enter your email below and we'll send the recipe straight to your inbox!
Recipes in the image above: