Enjoy every delicious bite of pesto chicken, cleverly wrapped to stay intact! We fill it with tender chicken, soft Mozzarella, tangy pesto, and sweet balsamic glaze for a satisfying handheld meal.
Want to save this recipe? Enter your email below and we'll send the recipe straight to your inbox!
What can I expect?
If you've ever enjoyed a wrap, chances are you've also had it fall apart as you eat. Not with this recipe! We cut and fold the tortilla in a unique way to create a clever wrap that stays intact.

Unlike store-bought or restaurant options, our pesto chicken wrap is made with fresh, natural ingredients folded into a low-carb tortilla. This quick and healthy meal will leave you feeling satisfied and energized.
Is this Pesto Chicken Wrap Healthy?
Want to save this recipe? Enter your email below and we'll send the recipe straight to your inbox!
Let's take a look at the main ingredients:
Tortilla
Chicken
Pesto
Cheese
Veggies
Chicken, pesto, and veggies are natural, nutritious food sources with their own lists of health benefits. Use them to add protein, nutrients, and flavor to a variety of meals.
But what about the cheese? Is dairy healthy?
Here's what we know. Dairy contains vitamins, minerals, protein, and natural fat energy. But if everyone consumed dairy all of the time, dairy farming would become abusive and unsustainable…
Let's be mindful of our dairy intake. Buy dairy that comes from pasture-raised cows and try to eat less.
Sugar is what makes food unhealthy.
Classic tortillas are made from white flour (refined grains) which means they are practically all sugar.
Wrap this pesto chicken in a 23g sugar tortilla and you're looking at heartburn with an energy crash. (And you'll be scouring the pantry for your next sugar snack within the hour.)
Substitute regular flour tortillas with a low-carb alternative, and this recipe becomes nourishment. The ingredients provide vitamins, minerals, protein, and quality, whole-food energy.
Enjoy this pesto chicken wrap knowing it supports your well-being. Learn more about eating less sugar here.
Pesto Chicken Wrap Tips
1. Make it a meal
This pesto chicken wrap can easily be served on its own as a complete meal. However, it also tastes great with sides like spiraled cucumber salad and healthier mac and cheese. Don't forget dessert, too! Satisfy your sweet tooth with peanut butter cottage cheese ice cream or a piece of chocolate-covered jam.
2. Clear out the fridge
This wrap recipe is a great way to use up any leftover produce you may have lingering in your fridge. Feel free to include any extra veggies you have on hand!
3. Include different flavors
Switch things up, and swap out the pesto and balsamic glaze with any sauces and seasonings you like best so you never get bored. Don't forget to check the ingredients for unnecessary sugar.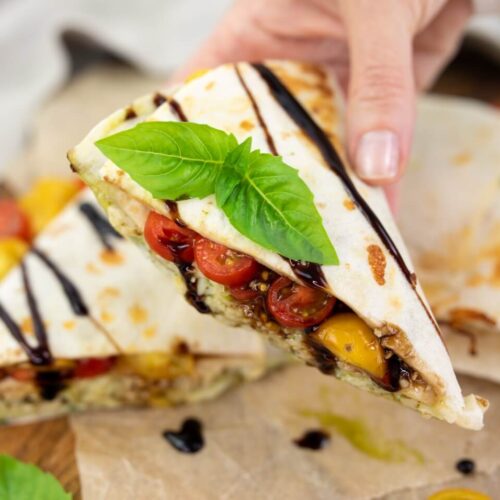 Ingredients
1

–

large low-carb tortilla

2-3

oz –

shredded chicken breast

1-2

Tbsp –

pesto

½

cup –

mozzarella cheese

¼

cup –

sliced cherry tomatoes

¼

cup –

spinach

1-2

Tbsp –

fresh basil

diced

2

Tbsp –

balsamic glaze
Instructions
Starting from the outer edge, cut the tortilla in a straight line until you reach the center.

Envision the tortilla divided into four quadrants. The cut separates quadrants 3 and 4, while the first two quadrants remain above.

Fill the top left quadrant (Q1) of the tortilla with cooked shredded chicken, pesto, and ¼ cup of mozzarella.

Fill the top right quadrant (Q2) with sliced tomatoes and balsamic glaze.

Fill the left bottom quadrant (Q3) with mozzarella.

Fill the bottom right quadrant (Q4) with spinach, basil, and the remaining mozzarella.

Let's fold this tortilla into a triangle.

a. Fold quadrant 3 (Q3) over quadrant 1 (Q1), creating a 3/4 circle shape.

b. Fold quadrant 1 (Q1) over quadrant 2 (Q2), resulting in a half-circle shape.

c. Finally, fold quadrant 2 (Q2) over quadrant 4 (Q4), forming a triangle (1/4 circle shape).

Cook on a flat skillet on low to medium heat for about 5 minutes on each side or until the cheese is melted and the tortilla is slightly toasted on each side.

Serve with a drizzle of balsamic glaze, additional tomatoes and basil leaves.
Notes
DID YOU MAKE THIS RECIPE?
Please let us know how it turned out! Leave a comment below and share a picture on

Instagram

with the hashtag #neutraleating
Recipe from Neutral Eating: https://neutraleating.com/pesto-chicken-wrap
Want to save this recipe? Enter your email below and we'll send the recipe straight to your inbox!
Recipes in the image above:
What are you going to serve with your Pesto Chicken Wrap? Let us know in the comments below!